"And for those of us who belong to what I call the Afrospora, do we go back to the Caribbean as Césaire and others like Lamming have done; do we go 'back' to Africa; do we stay in North America? And always there's the feeling of having been ripped away from something, of having lost something. There is a psychic wound that we all carry and that we all struggle to heal." — M NourbeSe Philip 
The USA, Canada and the Caribbean Islands have the largest African diasporic communities. The Yoruba presence in Brazil registers only a fraction of the Black people on the continent of South America, which also harbours Afro-Colombian communities. The UK contains a significant West-African presence. Both the Middle passage and the Indian Ocean have contributed towards the formation of a vast African diaspora, shaped by all its complex intersections. Consequently, concepts like creolization and syncretism — particularly as it is understood to be the combination of different forms of belief or spiritual practices — have shaped much of the Black diaspora experience. Can we speak of divergence or difference in the politics of belonging within such transcultural societies across the globe?  
In this fifth session of the When We See Us discursive webinar series, participants invite an exploration of the nuanced spectrum of this experience from specific vantages that extend beyond the geopolitical constructs of nationhood and citizenry. How do we locate ourselves within a Black-majority world?
Participating speakers for this session include Brazilian philosopher, artist and academic Denise Ferreira da Silva, PhD (Canada); Angolan architect and curator Paula Nascimento; and New York-based artist Firelei Báez (Dominican Republic). The conversation will be guided by socio-cultural anthropologist Dominique Somda, a Junior Research Fellow at the Institute for Humanities in Africa (HUMA) at the University of Cape Town (UCT) in South Africa (Burkino Faso/France).
Conceived by Zeitz MOCAA in collaboration with the Institute for Humanities in Africa (HUMA) at the University of Cape Town (UCT), the When We See Us webinar series is part of a larger project that comprises a major exhibition of the same name as well as an extensive publication. When We See Us will attempt to unveil the deeper historic contexts and networks of a complex and underrepresented genealogy that stems from African and Black modernities and spans several generations from the early 20th century to the present. To watch previous episodes, please click here.
Zeitz MOCAA's curatorial and exhibition programming is generously supported by Gucci.
Date and time: 
Tuesday, 28 March 2023
6.30 pm SAST, 4.30 pm GMT
Cost: The series is free and takes place via Zoom. No registration is required.
Event link: https://us06web.zoom.us/j/88378717647 

Participating Speakers:
Paula Nascimento (Angola)
Paula Nascimento is an architect and independent curator with degrees from the Architectural Association School of Architecture and the LSB University in London. She collaborated with architecture studios in Oporto and London before founding Beyond Entropy Africa with Stefano Pansera, a research-based studio that operated in architecture-urbanism-visual arts and geopolitics and was active between 2011 and 2016. Nascimento has also been a consultant on various projects, including the Angola Pavilion for Expo Milano 2015 and Expo Dubai 2020, and often collaborates with different artist institutions and collectives, both on the African continent and internationally. Between 2012 and 2020, she was a founding and active member of Colectivo Pés Descalços, a Luanda-based multi-disciplinary collective that develops projects in the cultural field. Since 2019, Nascimento has been the curator of the African Galleries at Arco Lisbon. Currently, she is the Chair of the Artistic Committee at Nesr Art Foundation, a member of the Advisory Board of Hangar Center for Artistic Research, an Associate Curator of the VII Lubumbashi Biennale and a recipient of the 2022 Okwui Enwezor Fellowship Research Grant from the Independent Curators International (ICI).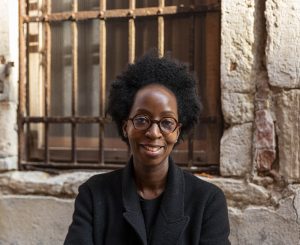 Firelei Báez (Dominican Republic)
The New York-based artist Firelei Báez casts diasporic histories into an imaginative realm, reworking visual references drawn from the past to explore new possibilities for the future. Born in 1981 in Santiago de los Caballeros in the Dominican Republic to a Dominican mother and a father of Haitian descent, Báez traces her concerns with the politics of place and heritage back to her upbringing on the border between the island of Hispaniola's two neighbouring countries, whose longstanding tensions are predicated in large part on ethnic difference. In exuberantly colourful works on paper and canvas, large-scale sculptures and immersive installations, Báez combines representational cues that span from hair textures to textile patterns, plant life, folkloric and literacy references and wide-ranging emblems of healing and resistance. Often featuring strong female protagonists, her paintings incorporate the visual languages of regionally specific mythology and ritual alongside those of science fiction and fantasy to envision identities as unfixed and inherited narratives as perpetually evolving. Photograph by Sunny Leerasanthanah, courtesy of the artist.
Dominique Somda (Burkino Faso/France)
Dominique Somda is a Junior Research Fellow at the Institute for Humanities in Africa (HUMA) at the University of Cape Town (UCT). A socio-cultural anthropologist, she received a PhD in Anthropology from the University of Paris West Nanterre in France. She taught anthropology as a visiting professor at the University of Pennsylvania and Reed College (United States) and was a travelling faculty member with the study abroad programmes IHP Cities and IHP Human Rights. As a postdoctoral researcher, she held visiting positions at the Fondation des Maisons de Sciences de l'Homme in Paris and the London School of Economics. Her work focuses on how inequality — or conversely, egalitarianism — emerges through everyday practices, a thematic interest that has also led her to engage with the anthropology of slavery, democracy, Christianity, and feminist and post-colonial studies. Her regional focus is Africa and, more specifically, Madagascar and Benin. At HUMA, she explores the ethics of artificial intelligence (AI) and the digital transition in healthcare systems.