'WHEN WE SEE US' WEBINAR: Fabulation & Figuration: Navigating the Tension Between Image & Imaginaries
In this session, speakers will expound on how fabulation in painting can encompass particular forms of world-building, myth-making and  poetics of Blackness. All three speakers are artists whose work is included in the When We See Us: A Century of Black Figuration in Painting exhibition.
When We See Us highlights the multiplicity of Black self-representation and the nuances of Black subjectivity as part of a historical continuum. It is evocative of the incalculable sites, schools, collectives and workshops from which important art pedagogies emerged.
What underpins the exhibition is the perpetuation, essence, and phenomenon of Black joy. Joy can be radical and political. It can be a profound weapon of resistance when used to dislodge harmful tropes and refute the centrality of colonialism, as emphasized by Achille Mbembé in 'African Modes of Self-Writing'. The speakers will also reflect on Saidiya Hartman's term, 'critical fabulation', which is the use of speculative history, close narration, and documentary poetics in art.
In this eighth session of the When We See Us discursive webinar series, participating speakers include Cassi Namoda (Mozambique); Edouard Duval Carrié (Haiti); and Michael Armitage (Kenya). They will expound on how fabulation in painting can encompass particular forms of world-building, myth-making and poetics of Blackness. All three speakers are artists whose work is included in the When We See Us: A Century of Black Figuration in Painting exhibition.
Conceived by Zeitz MOCAA in collaboration with the Institute for Humanities in Africa (HUMA) at the University of Cape Town (UCT), the When We See Us webinar series is part of a larger project that comprises a major exhibition of the same name as well as an extensive publication. When We See Us will attempt to unveil the deeper historic contexts and networks of a complex and underrepresented genealogy that stems from African and Black modernities and spans several generations from the early 20th century to the present. To watch previous episodes, please click here.
Zeitz MOCAA's curatorial and exhibition programming is generously supported by Gucci.
Date and time: 
Tuesday, 27 June 2023
6.30 pm SAST, 4.30 pm GMT
Cost: The series is free and takes place via Zoom. No registration is required.
Event link: https://us06web.zoom.us/j/88378717647 

Participating Speakers:
Cassi Namoda (b. 1988) is a painter whose work transfigures the cultural mythologies and historical narratives of  life in post-colonial Africa, particularly those of the artist's native Mozambique. Namoda's paintings are highly elusive, drawing upon literary, cinematic and architectural influences that capture the expansiveness of her specifically Luso-African vantage point. The idiosyncratic subjects who appear and reappear in Namoda's paintings also convey this hybridity: they emerge from African indigenous religions just as much as they spring from Western mythologies. Her work borrows from an art historical canon and arises from vernacular photography in equal measure. While they appear straightforward, her images are conceptually rigorous and portray figures with complex narratives. Namoda is equally attentive to landscape, creating scenes that depict both the rural and the urban through a surreal lens. Having lived in Haiti, the United States, Kenya, Benin, Uganda and other countries, Namoda has acquired a grasp of place that is at once grounded and subversive. Her landscapes resound with the features of equatorial life – blazing suns, palm trees –but they are mythic in their representation and pleasantly impeccable – mirroring the subjects that populate them.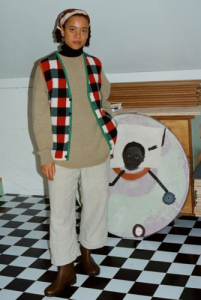 Edouard Duval Carrié (b. 1954) is a multidisciplinary artist and curator from Port-au-Prince, Haiti and based in Miami, Florida. Born and raised in Haiti, Duval-Carrié fled the regime of "Papa Doc" Duvalier as a teenager and subsequently resided in locales as diverse as Puerto Rico, New York, Montreal, Paris and Miami. His works, that speak to the complexities of the Caribbean and its diaspora, have been exhibited in major museums, art institutions and galleries in Africa, Europe and the Americas. To name only several recent solo exhibitions: The Art of Embedded Histories (2019); Decolonizing Refinement (2018-19); Mémoires Encastrées/Memory Windows (2018). As an alternative form of historical chronicling, Duval-Carrié's work critically explores social and historical aspects of Haitian politics and culture. His rich symbolic language draws heavily on magical realism (or the 'marvelous real'), and often includes Vodou gods (or Loas) and their related iconographies, combined with aspects of classical mythology, historical narratives connected to the Haitian Revolution and its aftermaths, as well as related mythologies surrounding Haitian national heroes like Toussaint L'Ouverture. In 2018, Duval-Carrié was the inaugural recipient of The Ellie's Michael Richards Award, which is given to a Miami-based artist who has cultivated an original practice over a long period of time. Most recently, Duval-Carrié's works were also shown at the fifteenth edition of Documenta, a prestigious international exhibition held in Kassel, Germany.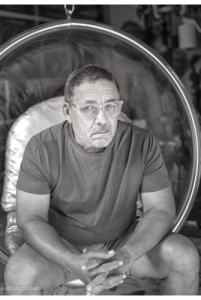 Michael Armitage was born in 1984 in Nairobi, Kenya and lives and works between London and Nairobi. He received his BA in Fine Art from the Slade School of Fine Art, London (2007) and has a Postgraduate Diploma from the Royal Academy Schools, London (2010). In 2022, the Royal Academy of Arts, London, elected him a Royal Academician in the category of painting. Armitage is the founder of the Nairobi Contemporary Art Institute, a non-profit visual art space dedicated to the growth and preservation of contemporary art in East Africa.
Living and working between London and Nairobi, Armitage paints with oil on Lubugo, a traditional bark cloth from Uganda, which is beaten over a period of days creating a natural material which when stretched taut has occasional holes and coarse indents. As noted by the artist, the use of Lubugo is at once an attempt to locate and destabilise the subject of his paintings.
Solo exhibitions include: Kunsthaus Bregenz, Austria (2023); White Cube Bermondsey, London (2022); Kunsthalle Basel (2022); Calcografía Nacional, Real Academia de Bellas Artes de San Fernando, Madrid (2022); Ny Carlsberg Glyptotek, Copenhagen (2021); Royal Academy, London (2021); Haus der Kunst, Munich (2020); The Norval Foundation, Cape Town (2020); Projects 110, Studio Museum in collaboration and at MoMA, New York, Museum of Contemporary Art Sydney (2019); Fondazione Sandretto Re Rebaudengo, Turin (2019); South London Gallery (2017); Turner Contemporary, Margate, UK (2017); White Cube, Hong Kong (2017); Berkeley Art Museum and Pacific Film Archive, San Francisco (2016); White Cube, London (2015); and Royal Academy Schools Studios, London (2010).
Selected group exhibitions include Astrup Fearnley Museum of Modern Art, Oslo (2023); Tate Modern, London (2023); Zeitz MOCAA, Cape Town (2022); Galerie Rudolfinum, Prague (2022); Tate Britain, London (2022); Royal Academy Summer Exhibition, London (2022); The Drawing Center, New York (2022); British Art Show 9, UK (2021-2022); Palais de Tokyo, Paris (2021); Royal Academy Summer Exhibition, London (2021); Pallant House Gallery, Chichester, UK (2021); Diversity United, Flughafen Tempelhof, Berlin (2021); Drawing Biennial, Drawing Room, London (2021); The Warehouse, Dallas (2020); Whitechapel Gallery, London (2020); 58th Venice Biennale (2019); Nasher Museum of Art, Durham, North Carolina (2018); Prospect.4, New Orleans (2017); Scottish National Gallery of Modern Art, Edinburgh (2017); HOME, Manchester, UK (2016); Yuan Art Museum, Beijing (2015); 13th Biennale de Lyon, France (2015); Palazzo Capris, Turin, Italy (2015); South London Gallery (2014); and Drawing Room, London (2013).