As part of Zeitz MOCAA's larger project around the landmark exhibition When We See Us: A Century of Black Figuration in Painting, which runs through 3 September 2023, the museum introduces a panel discussion titled Patronage, Politics and Place.
The first of many panel discussions, the in-person event will provide insights into the idea/s of patronage and how practices of collecting art from across the African continent can contribute to framing Black art history. The discussion will take place at Zeitz MOCAA's Scheryn Arena and will be moderated by Zeitz MOCAA Executive Director & Chief Curator Koyo Kouoh, with collectors Atose Aguele and Pule Taukobong as participants. 
The When We See Us project further comprises a major exhibition, a webinar series and an extensive publication of the same name. When We See Us: A Century of Black Figuration in Painting will attempt to unveil the deeper historic contexts and networks of a complex and underrepresented genealogy that stems from African and Black modernities and spans several generations from the early 20th century to the present. Visit Zeitz MOCAA to view the exhibition or watch previous episodes of the When We See Us Webinar Series here.
Zeitz MOCAA's curatorial and exhibition programming is generously supported by Gucci.
Date and time: 
Tuesday, 4 April 2023
6.30 pm SAST
Cost: Free with registration
Book your seat HERE 
Participating Speakers:
Participants include South African collectors Atose Aguele and Pule Taukobong, and the panel discussion will be moderated by Zeitz MOCAA Executive Director & Chief Curator Koyo Kouoh.

Atose Aguele 
Atose Aguele is the managing director of Avedia Energy and has more than 20 years of experience in the oil and gas industry, stretching across the United States of America to Nigeria and the wider African region. The company currently has an established presence in South Africa at Saldanha Bay on the West Coast and at Airport Industria in Cape Town, as well as in Walvis Bay, Namibia.
After completing his studies in the United States in 1988, he started his career as a sales manager with Bridgestone/Firestone Limited tyre manufacturers in New Jersey, where he remained until 1991. He then moved to Nigeria to join the established family-run Grenigas Limited, the first indigenous LPG bottling company in Nigeria since 1967, as a commercial manager in charge of the group's marketing department. He was appointed as the commercial director of Grenigas Limited in 1993.
In 1995, Aguele set up Union Petroleum Services Nig. Ltd with the aim to explore and manage a broader scope of the oil and gas industry across the wider sub-Saharan African region. Union Petroleum Services is still a significant trader of LPG, with exports of LPG from the Bonny River Terminal, operated by Exxon Mobil. 
Aguele holds a graduate degree in Economics (1990)  and a BSc in Animal Science (1986) from the University of Delaware in the United States. In addition to his position as managing director of Avedia Energy, he also holds directorships at Union Petroleum Services Ltd, Avedia Foods Ltd and Industrial Air Products.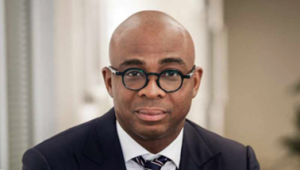 Pule Taukobong 
Pule Taukobong is a founding partner at CRE Venture Capital, a leading venture capital firm that invest in and partners with visionary entrepreneurs building category-defining companies in Africa. He previously founded the Africa Angels Network, the first technology-focused angel investment group to focus on sub-Saharan Africa. Prior to that, he held several investment roles at Investec in Johannesburg and Cape Town, South Africa and New York, United States. 
Pule has been named 'one of the 100 Most Influential Africans' and has been a guest speaker at prominent conferences hosted by the likes of the Milken Institute, South by Southwest (SXSW), Harvard University, Duke University, University of California, Los Angeles (UCLA) and New York University, where he has spoken on the topic of investing in technology in Africa. He is furthermore a Kauffman Fellow and a graduate of the Durban University of Technology.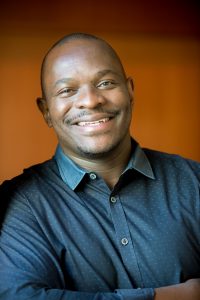 Koyo Kouoh
Koyo Kouoh is the Executive Director and Chief Curator of Zeitz Museum of Contemporary Art Africa (Zeitz MOCAA) in Cape Town since May 2019. Prior to this appointment, she was the founding Artistic Director of RAW Material Company, a centre for art, knowledge and society in Dakar, Senegal.
She has organised meaningful and timely exhibitions such as Body Talk: Feminism, Sexuality and the Body in the Works of Six African Women Artists, first shown at Wiels in Brussels, Belgium in 2015. She curated Still (the) Barbarians, 37th EVA International, the Ireland Biennal in Limerick in 2016 and participated in the 57th Carnegie International in Pittsburgh, Pennsylvania, United States, with the deeply researched exhibition project Dig Where You Stand (2018), a show within a show, drawn from the collections of the Carnegie Museums of Art and Natural History. She was the initiator of the research project Saving Bruce Lee: African and Arab Cinema in the Era of Soviet Cultural Diplomacy, co-curated with Rasha Salti at Garage Museum of Contemporary Art in Moscow, Russia, and Haus der Kulturen der Welt in Berlin, Germany (2015-2018).
Active in the critical field of the arts community in a pan-African and international scope, Kouoh has a remarkable list of publications under her name, including When We See Us: A Century of Black Figuration in Painting (2022), which accompanied the show by the same title that opened at Zeitz MOCAA in November 2022; Shooting Down Babylon (2022), the first monograph of the work of South African artist Tracey Rose; Breathing Out of School: RAW Académie (2021); Condition Report on Art History in Africa (2020); Word!Word?Word! Issa Samb and The Undecipherable Form (2013); and Condition Report on Building Art Institutions in Africa (2012), to name a few. She has served as Curator of the Educational and Artistic Programme of 1:54 Contemporary African Art Fair in London, United Kingdom and New York, United States, from 2013 to 2017 as well as on the curatorial teams for documenta 12 (2007) and documenta 13 (2012). Kouoh is the recipient of the Grand Prix Meret Oppenheim 2020, the Swiss Grand Award for Art that honours achievements in the fields of art, architecture, critique, and exhibitions.
During her tenure at Zeitz MOCAA, her curatorial work focuses on in-depth solo exhibitions by African and African-descent artists. As such, she has organised exhibitions with Otobong Nkanga, Johannes Phokela, Senzeni Marasela, Abdoulaye Konaté, Tracey Rose, and Mary Evans. She lives and works alternately in Cape Town, South Africa; Dakar, Senegal; and Basel, Switzerland.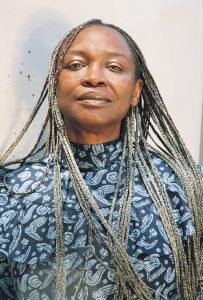 Image credit: Mikhailia Petersen