When We See Us Webinar Series 'Nobody was dreaming about me': A Black Queering of the Canon (… after A. Lorde)
Over time, Black queer subjectivities have claimed spaces and visibility within global contemporary art and cultural production — expressed and examined through a widening range of artistic cues and authored by artists of African descent. The sixth session of the When We See Us Webinar Series is titled 'Nobody was dreaming about me': A Black Queering of the Canon (… after A. Lorde) and refers, in part, to a conversation between the great thinker and writer James Baldwin and the self-described 'black, lesbian, mother, warrior, poet' Audre Lorde, who insisted on deeply inscribing her intersectionality into her work, making her own canon anew. She stated:
… Nobody was dreaming about me. Nobody was
even studying me except as something to wipe out.
(The conversation took place at Hampshire College in
Amherst, Massachusetts and was originally published
in ESSENCE magazine in 1984.)
In this session, our participants will seek to unpack questions such as, how Black queer identity encapsulates radical artistic practices of figuring uniquely intersectional subjectivities and how a queered canon of Black figuration contribute to new visual vocabularies that continue to subvert or reject dominant visual cultures that either erase or impose a violent, gendered and fetishising gaze.
Conceived by Zeitz MOCAA in collaboration with the Institute for Humanities in Africa (HUMA) at the University of Cape Town (UCT), the When We See Us webinar series is part of a larger project that comprises a major exhibition of the same name as well as an extensive publication. When We See Us will attempt to unveil the deeper historical contexts and networks of a complex and underrepresented genealogy that stems from African and Black modernities and spans several generations from the early 20th century to the present. To watch previous episodes, please click here.
Zeitz MOCAA's curatorial and exhibition programming is generously supported by Gucci.
Date and time:
Tuesday, 25 April 2023
6.30 pm SAST, 4.30 pm GMT
Cost: The series is free and takes place via Zoom. No registration is required.
Participating Speakers:
With speakers academic, novelist and literary critic Frieda Ekotta (Cameroon/United States), independent writer and curator Serubiri Moses (Uganda), artist Jota Mombaça (Brazil) and academic and curator Tavia Nyong'o (Kenya). The session will be moderated by Zeitz MOCAA research assistant Rory Tsapayi (Zimbabwe).
About the participants:
Frieda Ekotta (Cameroon/United States) 
Frieda Ekotta is Lorna Goodison Collegiate Professor of Afro-American and African Studies, Comparative Literature and Francophone Studies at the University of Michigan in the United States. As an intellectual historian and philosopher with areas of expertise in 20th- and 21st-century Anglophone and Francophone literature and in the cinema of West Africa and its diaspora, she concentrates on law, race and LGBTQIA2S+ issues. Her primary research to date has focused on how law serves to repress and mask the pain of disenfranchised subjects; her intention with this work is to trace what cannot be said in order to address and expose suffering from a variety of angles and cultural intersections and reassess the position and agency of the dispossessed. She is currently working on how to understand what makes global Blackness experiences unique. In addition to her academic work, she is a creative writer. She received the Nicolaas Guillèn Prize for Philosophical Literature in 2014 and in 2015, she was awarded the Benezet Award for Excellence in her field. In 2016, she was awarded the John H. D'Arms Faculty for Distinguished Graduate Mentoring in the Humanities at the University of Michigan, Ann Arbor. In 2018, she was awarded an Honorary degree at Colorado College.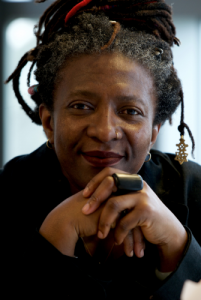 Serubiri Moses (Uganda)
Serubiri Moses is a Ugandan author based in New York City, United States. He currently serves as faculty in Art History at Hunter College and visiting faculty at the Center for Curatorial Studies at Bard College. He has worked as faculty at New York University and the New Center for Research and Practice. Moses has had speaking engagements at Williams College, Yale University, the University of Pittsburgh, The New School, basis voor aktuelle kunst (NL), and the University of the Arts Helsinki (FL). As a curator, he has organised exhibitions at museums, including MoMA PS1, Long Island City; Kunst-Werke Institute for Contemporary Art, Berlin; and the Hessel Museum, Bard College, New York. He previously held a research fellowship at the University of Bayreuth. He serves on the editorial team of the e-flux journal.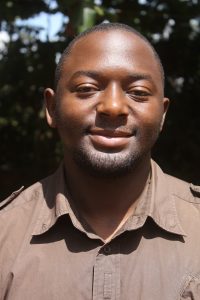 Jota Mombaça (Brazil)
Jota Mombaça is an interdisciplinary artist whose work unfolds in a variety of mediums. The sonic and visual matter of words plays an important role in their practice, which often relates to anti-colonial critique and gender disobedience. Their work has been presented in several institutional frameworks, such as the 32nd and 34th São Paulo Biennale (2016 and 2020/2021), the 22nd Sydney Biennale (2020), the 10th Berlin Biennale (2018) and the 46th Salon Nacional de Artistas in Colombia (2019). Currently, they have been interested in researching elemental forms of sensing anti-colonial imagination and the relation between opacity and self-preservation in the experience of racialised trans artists in the global art world.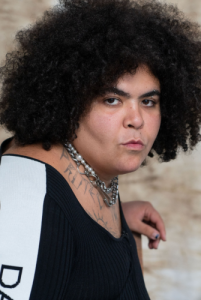 Photograph: ? Pedro Yared Lima, courtesy of Jota Mombaça.
Tavia Nyong'o (Kenya)
Tavia Nyon'go (b. 1974) is a critic and scholar of art and performance. He is a William Lampson professor of African-American studies and theatre and performance studies at Yale University in the United States, where he teaches courses on Black diaspora performance, cultural studies, and critical and aesthetic theory. Nyong'o received his bachelor of arts from Wesleyan University before receiving a Marshal scholarship to study at the University of Birmingham in England, United Kingdom. In 2003, he received his PhD in American Studies from Yale, where he studied under the mentorship of Paul Gilroy and Joseph Roach. Prior to his appointment at Yale, Nyong'o taught in the Department of Performance Studies at New York University. His book, The Amalgamation Waltz: Race, Performance, and the Ruses of Memory, was published by the University of Minnesota Press (2009) and won the Errol Hill Award. In addition, Nyong'o has published articles in The Nationn+1, the Yale Journal of Criticism, Social Text, Theatre Journal and GLQ.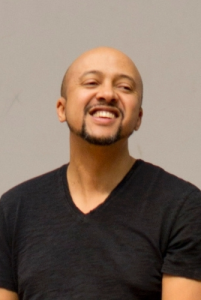 Rory Tsapayi (Zimbabwe)
Rory Tsapayi is a Zimbabwean and Irish visual historian and theorist who focuses on photography, with a particular interest in Black African looking, from the mid-20th century to the present day. Working across historical and contemporary contexts, Tsapayi is a researcher on Zeitz MOCAA's curatorial team, a fellow of visual history and theory from the University of the Western Cape's Centre for Humanities Research, where he is pursuing a master's degree, and an independent curator and art writer. Tsapayi furthermore holds a bachelor's degree in journalism with honours in Art History from Northwestern University, as well as honours in History from the University of the Western Cape, completed as part of the inaugural Zeitz MOCAA and the University of the Western Cape Museum Fellowship Programme. He has held positions at the Stony Island Arts Bank and the Block Museum of Art in Chicago; participated in educational programmes with the Art Institute of Chicago, the Black Art Movement School and the Moleskin Foundation; and published multiple articles on South African art with Daily Maverick. His art historical and curatorial work seeks to emphasise materiality, technology and practice to foreground the labour of art and imaging, or what he calls the social life of images.