When We See Us Artist Talk: Painting as a Space for Imagination
In this second panel discussion, part of Zeitz MOCAA's public programming around the landmark exhibition When We See Us: A Century of Black Figuration in Painting, which runs through 3 September 2023, we bring together a group of multi-generational artists whose works are featured in the exhibition, to explore how the medium of painting can expand the space of imagination. The in-person event will furthermore provide insights into the power of the medium of painting, and it's ability to expand the space of the imagination. Meet the artists: Mmakgabo Helen Sebidi, Zemba Luzamba, Cinthia Sifa Mulanga and Katlego Tlabela in person at Zeitz MOCAA's Scheryn Arena.
The When We See Us exhibition is further accompanied by  a webinar series and an extensive publication of the same name. When We See Us: A Century of Black Figuration in Painting attempts to unveil the deeper historic contexts and networks of a complex and underrepresented genealogy that stems from African and Black modernities and spans several generations from the early 20th century to the present. 
Zeitz MOCAA's curatorial and exhibition programming is generously supported by Gucci.
Date and time: 
Saturday, 6 May 2023
10.30 am SAST
Cost: FREE with a single-entry ticket, or with your membership.
Book your seat HERE.
Participating Artists:
Mmakgabo Helen Sebidi
Mmakgabo Mmapula Mmankgato Helen Sebidi (b.1943, Marapyane, South Africa) is an internationally recognised painter and sculptor who studied at the White Studio in Sophiatown, Johannesburg (1970–73), exhibiting solo in Joubert Park in 1977 and as part of the open-air Artists Under the Sun in Johannesburg in the 1980s. Sebidi worked for the Johannesburg Art Foundation from 1986 to 1988 and taught at art centres in Katlehong and Alexandra as well as at community workshops. She won the Standard Bank Young Artist Award in 1989 and was awarded the South African government's Order of Ikhamanga (Silver) in 2004.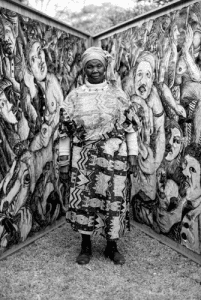 Zemba Luzamba
Zemba Luzamba (b. 1973, Democratic Republic of the Congo) was born and raised in the Democratic Republic of the Congo and has lived in South Africa since 2000. Luzamba is a post-war contemporary painter who draws on his own experiences, along with transnational narratives, to depict migrants inhabiting uncertain, frequently hostile circumstances. In bold colour and with an eye for irony, Luzamba creates scenarios that reflect oft-unspoken power relationships in Africa with playful ambiguity. He has exhibited internationally and his work features in several public collections.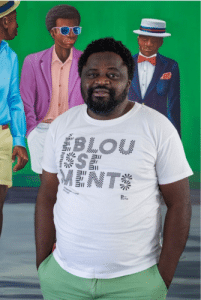 Cinthia Sifa Mulanga
Cinthia Sifa Mulanga (b. 1997, Lubumbashi, Democratic Republic of Congo) is an emerging artist trained at Artist Proof Studio in Johannesburg, South Africa. She works in multiple media, including collage, painting, photography, drawing and sculpture and most recently, explored printmaking with silkscreening and intaglio. Her compositions depict domestic spaces and examine the stereotypical constructs of beauty to which urban African women are subjected, drawing on her own experiences. She currently lives and works in Johannesburg.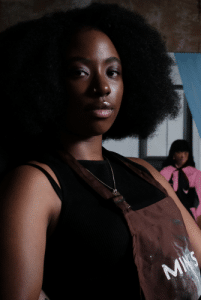 Katlego Tlabela
Katlego Tlabela (b. 1993, Pretoria, South Africa) majored in printmaking at the University of Cape Town's Michaelis School of Fine Art. He uses paint together with mixed media in his work, provoking viewers to engage in important dialogues surrounding race and resistance. Deliberately confounding stereotypical representations of the suffering, impoverished Black body, Tlabela depicts Black subjects at leisure in luxury domestic settings, envisaging narratives of Black prosperity, which, if currently aspirational, are nevertheless attainable.