The Museum's flagship exhibition, When We See Us: A Century of Black Figuration in Painting currently on show on level 3 of Zeitz MOCAA, brings together artworks from the past 100 years by Black artists from around the world that explore Black self-representation and celebrate Black life. In response to one of the exhibition's themes, Repose, and the artwork on show by South African artist, Neo Matloga, the Members' Workshop invites members to participate in a morning of creativity where they will learn about the artist and his techniques to create their own figurative artwork that captures a moment of repose.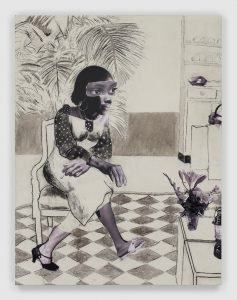 The Zeitz MOCAA Members' Workshops at the Centre for Art Education (CFAE) offer members a creative experience to develop their engagement with art and deepen their understanding of the artwork on exhibit at the museum. Materials and equipment are provided along with tea, coffee and snacks.
Date and time:
Saturday, 26 August 2023
10.15 am for 10.30 am – 1 pm
Participants must meet in the museum entrance foyer at 10.15 am. The workshop will begin promptly at 10.30 am with a visit to the artwork.
Cost: Free with Museum Membership (from R290 pp)
Please note: This event is for Zeitz MOCAA Members only. Please bring your valid membership card to participate in the workshop.
Not a Member yet? Purchase your Membership now. Membership packages start from only R290 per annum, and you will receive year-round access to the museum and more. Click HERE for more information and to purchase your Membership.
Artwork credit: Neo Matloga, Mmadira, 2020, charcoal, charcoal liquid and ink on canvas, 190x145cm. Courtesy of TBD.