Zeitz MOCAA Level 3, Elevator Side
Curated by Storm Janse van Rensburg and Thato Mogotsi
Self as a Forgotten Monument is the first museum solo exhibition by Mame-Diarra Niang presented by Zeitz MOCAA. Organised as a survey of the artist's practice over the past decade, the project brings together significant bodies of work in dialogue in a spatial choreography. 
Niang's prolific practice is characterised by an exploratory, abstract and subversive approach to lens-based media working across photography, moving image and immersive audio-visual installation. 
The title of the exhibition is an invitation to embrace the artist's notion of "Plasticity of the Territory", a concept that is foundational to her practice and asserts an inner territory that names life as an experience in and of itself.  In her own words, "I have come to think of the self as a territory made of well-curated memories and erasures (…) – a place where being itself is a forgotten monument; where even the most persistent conception of identity dissolves in front of us."  
A monument in Niang's world registers as a commemorative structure of remembrance, an offering to remind us of a never-ending metamorphosis of the self. Her work is an act of remembering and forgetting, through which she resists categorisation and assumptions about geographies and specificities. It is an inner space odyssey to build a self-portrait in constant mutation.  
There are several prompts within the exhibition, where Niang challenges the viewer to see beyond the recognizable. The artist states, "I carve the land, I sculpt what is living, I decontextualize. Then, I reconstruct a territory with fragments of existing landscapes." 
The exhibition presents a constellation of two key trilogies – bodies of work that are thematically related or stem from a particular period in her oeuvre. The first "The Citadel" features the series Sahel Gris (2013), At the Wall (2014) and Metropolis (2016) and the second "Remember to Forget" consists of the series: Call Me When You Get There (2020), Léthé (2021) and Sama Guent Guii (2021).  
These works are central to Niang's journey as a self-taught artist whose inward-looking process of image-making actively challenges the conventions of documentary and portraiture photography. 
This survey exhibition includes a new iteration of Niang's immersive room installation; that grounds the artist's sensibility and personal meaning-making embedded in her practice and is site-specific to Zeitz MOCAA, whilst retaining a lineage to the different spaces that the work has previously occupied. Since Time Is Distance in Space, a multiscreen filmic installation that envelops the viewer, also includes a nuanced musical score composed and recorded by Niang.   
Self As a Forgotten Monument forms part of an ongoing series of in-depth, research-based solo exhibitions by Zeitz MOCAA that bring into focus and contextualise the practices of important artists from Africa and its diaspora. 
Zeitz MOCAA's curatorial and educational programming is generously supported by Gucci and the Mellon Foundation.
Meet the Artist
Mame-Diarra Niang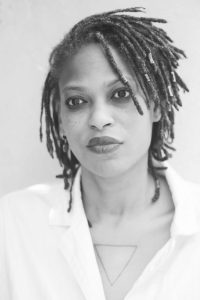 Portrait of Mame-Diarra Niang
© CC Aude Arago
Mame-Diarra Niang was born in 1982, in Lyon, France, and lives in Paris. She is a self-taught artist and photographer. 
In her creations she explores her concept of the 'plasticity of territory'. Niang's first solo show, Sahel Gris, took place at the Institut Français of Dakar in 2013. Her first solo exhibition in South Africa, At the Wall, took place at Stevenson in Johannesburg in 2014, followed by Call Me When You Get There in Cape Town in 2020 and Léthé, as part of Rhe, in Amsterdam in 2021, and Sama Guent Guii at Stevenson Johannesburg in 2022. She presented The Citadel: a trilogy | Call me when you get there at Galeria Lume São Paulo in 2021.  
She has taken part in group exhibitions including UNBOUND: PERFORMANCE AS RAPTURE, Julia Stoscheck Foundation, Berlin (2023); Thinking Historically in the Present, 15th Sharjah Biennale, UAE (2023); Currency, the 8th Triennial of Photography Hamburg (2022); DAK'ART OFF, 14th Dakar Biennale, Senegal (2022); Shifting Dialogues: Photography from The Walther Collection,  Kunstsammlung Nordrhein-Westfalen (2022); The Art of Living, Fotofestival Naarden, the Netherlands (2021); Movin'Grounds, 38CC, Delft, the Netherlands (2020); Pictures from Another Wall, De Pont Museum, the Netherlands (2020); Travesías atlánticas, the 4th Montevideo Biennial (2019); Recent Histories/Contemporary African Photography and Video Art from The Walther Collection at Huis Marseille, the Netherlands (2018); Affective Affinities, the 33rd Bienal de São Paulo (2018); Strange Attractors, a curatorial publication project launched at the 10th Berlin Biennale (2018). Other group exhibitions include O Triângulo Atlântico, the 11th Mercosul Biennial in Porto Alegre, Brazil (2018); Deconstructed Spaces, Surveyed Memories at the 11th Rencontres de Bamako (2017); Recent Histories – New African Photography at the Walther Collection in New-Ulm (2017); the 12th Dakar Biennale (2016); Armory Focus: African Perspectives – Spotlighting Artistic Practices of Global Contemporaries at The Armory Show, New York (2016); The Lay of the Land: New Photography from Africa at The Walther Collection Project Space in New York (2015); Nine Artists at Stevenson in Cape Town (2015); 11th Dakar Biennale in 2014, and Le Piéton de Dakar at the Institut Français of Dakar in 2013. 
In 2017 Niang conducted a residency titled Black Hole at the fifth-floor space of Stevenson Johannesburg. The residency took the form of a laboratory in which she explored this term using video as a medium and as a research tool. 
The artist's monograph was published by Mack Publishers in 2022 as The Citadel: a trilogy, a three-volume edition.  
Image credit: Mame-Diarra Niang, Morphologie du rêve #6, 2021. Archival ink on photorag metallic paper, 110 x 110cm. Courtesy of the artist and Stevenson Cape Town, Johannesburg and Amsterdam.