Zeitz MOCAA presents Seismography of Struggle: Towards a Global History of Critical and Cultural Journals. Curated by Zahia Rahmani, this itinerant exhibition and research project highlights non-European critical and cultural journals as tools of resistance in anti-colonial and liberatory movements. Spanning the late 18th century to 1989, the exhibition explores the seismic impact of events such as the Haitian Revolution and the fall of the Berlin Wall. With a focus on decentralizing European perspectives, Seismography of Struggle has been exhibited worldwide, evolving through ongoing research efforts.
Now at Zeitz MOCAA, the exhibition delves into the rich legacies of Black-led and anti-apartheid publications in South Africa, showcasing influential magazines like DRUM, Zonk! and Staffrider, alongside Sechaba, DAWN, and Mayibuye (aligned with the ANC). Academic journals such as Kronos from the University of the Western Cape are also featured. The exhibition is presented in part as a dynamic film installation.
Seismography of Struggle was previously screened online as part of Zeitz MOCAA's Radical Solidarity Summit in 2020 — a week-long gathering addressing urgent issues and exploring alternative futures in the context of the pandemic. The summit fostered connections among organizations, artists, curators, and activists committed to supporting the arts from Africa and its diaspora. 
Zeitz MOCAA's curatorial and educational programming is generously supported by Gucci and the Mellon Foundation. Seismography of Struggle is furthermore supported by the French Institute of South Africa (IFAS).
Meet the Curator

Zahia Rahmani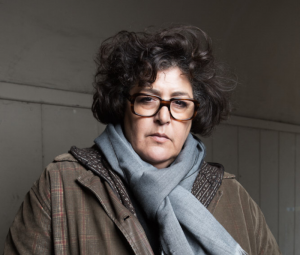 Photo credit: Sebastien Dolidon
The Algerian-born academic and author Zahia Rahmani is one of France's leading art historians and writers of fiction, memoirs, and cultural criticism. She is the author of a literary trilogy published by Sabine Wespieser Editions, dedicated to contemporary figures of so-called banished people: Moze (2003); "Musulman" roman (2005); France, récit d'une enfance (2006). In the US, France, Story of Childhood was published by Yale University Press in 2016, and "Muslim" A Novel will be published by Deep Vellum Publishing in 2019. The French Ministry of Culture named Rahmani Chevalier of Arts and Letters and as a member of the College of the Diversity. As an art historian, Rahmani is Director of the Research Program on Art and Globalization at the French National Institute of the History of Art (INHA, Paris), an interdisciplinary program that focuses on contemporary art practices in a globalized world and it links many networks in France and abroad. 
She curated Made in Algeria: Genealogy of a Territory, a large exhibition of colonial cartography, high and popular visual culture, and contemporary art at the Museum of European and Mediterranean Civilisations (MuCEM), Marseille in 2016. She founded at INHA, Global Art Prospective, a collective of young researchers and actors within the artistic scene who are specialists in non-European territorial and cultural spaces. In the fall 2016, she an NYU Gallatin's Global Faculty-in-Residence. Currently on view at the NYU Gallatin Gallery, Seismography of Struggle: Towards a Global History of Critical and Cultural Journals (INHA, Paris, 2017; RAW Material Company, Dakar; Kulte Gallery, Rabat; FID/la compagnie, Marseille, 2018), is an international traveling display resulting of GAP/INHA programs curated by Rahmani.