Zeitz MOCAA presents SURVEY: Image as History / History as Image, a one-day symposium and book launch centering the work of Nigerian-British artist, Mary Evans and South African painter, Johannes Phokela; following and in the context of their solo exhibitions titled: GILT and Only Sun in The Sky Knows How I Feel – (A Lucid Dream), that took place at the museum in 2021 and 2023 respectively. 
Symposium

This moment offers an opportunity to further reflect on the ideas, subject matter and intentions in their work while also exploring the uses and impact of museum survey exhibitions in bringing focused attention and criticality to the practices of important artists from Africa and its diaspora.  
In looking back at both solo exhibitions, the symposium positions the two artists' decades-long practices in conversation with each other – whilst widely divergent, there are key conceptual connections, regarding their respective engagement with the power of images, its construction, manipulation, and contribution to regimes of historicization. For both artists, a concerted effort towards a rearticulation of their practice has been made, and participating speakers will contribute new and close readings of the subjectivities that inform both artists' career trajectories. Simultaneously, there are connections to be made between the two artists' creative paths and research interests. In both the contexts of their work and life, Evans & Phokela share a familiar journey as other artists of their generation.  
The conversations that form part of this one-day dual symposium programme will illuminate on this and other stories from the artists' committed and decades-long creative journeys; culminating in the launch of their respective monographs, published by Zeitz MOCAA. 
Zeitz MOCAA's curatorial and educational programming is generously supported by Gucci and the Mellon Foundation.
Book Launch
With a special performance by Maya Spector and Nobuhle Ashanti.
Monograph by Mary Evans, 'GILT'

Mary Evans draws from both familial and diasporic experiences to consider the ongoing wake and impact of violent histories of forced movement and migration that have shaped Black personhood. The monograph Mary Evans: GILT is a reflection on Evans' oeuvre as a practice that uses the decorative to critique and counter the consumption of Black people and their labour. These nuances are explored in newly commissioned essays by a current generation of writers and thinkers, Thulile Gamedze and Kim M. Reynolds. Designed by softwork studios, edited and with a written contribution by Thato Mogotsi and Khanyi Mawhayi, this publication serves to introduce Evans' work to new audiences and spotlight her research-driven and quietly disarming practice. It accompanies GILT, the Nigerian-born, Britain-based artist's first museum survey exhibition on the African continent which was presented at Zeitz MOCAA from February to November 2023. 
140 Pages 
Dimensions: 205mm x 270mm
Soft cover, full colour
ISBN: 978-0-7961-0788-6
Published by Zeitz MOCAA 
Monograph by Johannes Phokela, 'Only Sun in the Sky Knows How I Feel – (A Lucid Dream)'

Johannes Phokela has been speaking to us through powerful and rousing images for three decades. This richly illustrated publication, Only Sun in the Sky Knows How I Feel – (A Lucid Dream), offers new critical readings of the artist's practice and brings together incisive essays by Alexandra Dodd and Athi Mongezeleli Joja. Following his survey exhibition at Zeitz MOCAA from October 2021 through to January 2023, the publication marks a significant milestone in the artist's career and traces key concerns in his work. Designed by softwork studios, and edited by Beata America and Storm Janse van Rensburg, the hard-cover monograph delves into Phokela's iconographic, satirical and deeply political practice, firmly re-inserting him into international and African art historical narratives alongside his peers. 
165 Pages 
Dimensions 260 x 280 mm
Hard cover, full colour
ISBN: 978-0-7961-0787-9
Published by Zeitz MOCAA 
Event Details

Date: Saturday, 28 October 2023
Time: 10 am – 5 pm (registration at 09.30 am)
Venue: Level 6 Mountain Side
Cost: R250 per entry or free with annual museum membership (from R290 pp)
Book: Click HERE to attend the Symposium + Book Launch
Complimentary lunch will be served
View or download the Symposium + Book Launch Programme HERE.
To access the Zoom Livestream of the Symposium on Saturday, please click HERE or use the following link: https://us06web.zoom.us/j/89050643220
Meet the Artists

Mary Evans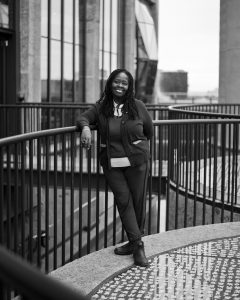 Photo credit: Jesse Barnes
Mary Evans (b. 1963, Lagos, Nigeria) uses brown paper and other disposable materials to consider sites and narratives about place and belonging. Raised in England, Evans uses the socio-political and historical frameworks of diaspora, migration, and global exchange to reflect on narratives of Black resilience. This cross-cultural discourse is paralleled by a secondary conversation that links methods of image production, 'fine art' and 'craft', decoration, and ornament.
Evans has held solo exhibitions with Tiwani Contemporary, London; Baltimore Museum of Art, Baltimore; Café Gallery Projects, London; Leighton House Museum, London; and Art and Project, Rotterdam. She has also participated in important group exhibitions globally, including Still the Barbarians, EVA International, Limerick, Ireland (2016); Lagos Photo, Lagos, Nigeria (2018); Layers, LaBanque in Béthune, France (2019); and Paper Routes-Women to Watch, National Museum of Women in Arts (NMWA) Washington DC, USA (2020), to name a few.
Evans studied at Goldsmiths, University of London and Rijksakademie van beeldende kunsten, Amsterdam, Netherlands. She has taken part in several international residencies, including the Smithsonian Artist Research Fellowship, National Museum of African Art, Washington DC, USA (2010); and The Arts & Literary Arts Residency, Rockefeller Foundation, Bellagio, Italy (2014). Mary Evans is currently the BAFA Course Leader at Chelsea College of Arts and unveiled a new commission titled Breathe at Meta's Kings Cross Offices in London (2022). In August 2023, Evans was appointed as the new Director of the Slade School of Fine Art, University College London. 
Johannes Phokela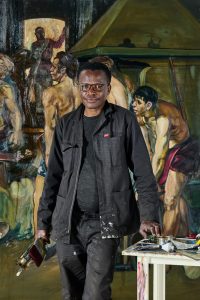 Photo credit: Anthea Pokroy
Johannes Phokela (b. 1966, Soweto) is a South African artist currently living and working in Johannesburg. Phokela began his formal art career in 1984 at the Federated Union of Black Artists (FUBA) Academy in Johannesburg, where he obtained a three-year diploma. In 1987, he relocated to London, where he completed a year-long foundation course at Central St. Martins, University of the Arts London, before acquiring a bachelor's degree at Camberwell College of Art, University of the Arts London (1988). He then completed a master's degree at the Royal College of Art (1993) and remained in London until his permanent return to South Africa in 2006. 
Phokela has established a distinguished career both locally and internationally. He played an advisory role in establishing The Bag Factory, Johannesburg (1990) and was awarded the prestigious year-long residency at Delfina Studio Trust, London (1993). He was one of the founding members of the Gasworks Studios, London (1994–2005), producing studio work as well as participating in the International Residency Programme. This inspired him to do volunteer work for The United Nations Educational, Scientific and Cultural Organization (UNESCO) in 1995 and led to his participation in a residency programme in Senegal through the British Council (1997). He is also a recipient of the Decibel Award from the Arts Council of England (2004). 
Phokela's prominent solo shows include an eponymous exhibition commissioned by the Institute of International Visual Arts (INiVA) in collaboration with The Gallery, Cafe Gallery Projects, London (2002); Age of Enlightenment, Gallery MOMO, Johannesburg (2003); Landlord of the Lion, Stephen Lawrence Gallery, London (2005); Imagine Where You'll Be, Gallery MOMO, Johannesburg (2005); Translation (In Memory of Durant Sihlali), Johannesburg Art Gallery, Johannesburg (2006); Compendium, KZNSA, Durban (2007); I Like My Neighbours, Standard Bank Gallery, Johannesburg (2009); Collateral, Oliewenhuis Art Museum, Bloemfontein (2012); and A World Sacred and Profane, Gallery AOP, Johannesburg (2015), in addition to many others. 
He has participated in numerous notable group exhibitions, such as the critically acclaimed 2nd Johannesburg Biennale titled Trade Routes: History and Geography, Johannesburg (1997); Routes: Thou Shalt Not Covet Thy Neighbour's Idols, Brunei Gallery, School of Oriental and African Studies, University of London (1999); Unpacking Europe, Museum Boijmans Van Beuningen, Rotterdam (2001); Figure Of', Battersea Pump House, London (2001); There is No Redemption/Origin of End, Bonington Gallery/City Gallery, Leicester (2002); Personal Affects: Power and Poetics in South African Contemporary Art, Museum for African Art and The Cathedral of St. John the Divine, New York (2004); Tremor, Palais des Beaux-Arts de Charleroi, Brussels (2004); Olvida Quien Soy/Erase Me From Who I Am, Centro Atlantico de Arte Moderno, Las Palmas (2006); Body of Evidence, National Museum of African Art, Smithsonian Institute, Washington D.C. (2006); New Painting, at the KZNSA, Durban; UNISA Art Gallery, Pretoria, and Johannesburg Art Gallery, Johannesburg (2006); and Still (the) Barbarians, EVA Limerick Open, Limerick (2016). 
Phokela was represented in the South African Pavilion at the Venice Biennale (2013) and his work can be found internationally in the collections of the National Museum of African Art, Smithsonian Institute, Washington D.C.; in London at the Delfina Studio Trust and the London Arts Council Collection; and the South African High Commission. In South Africa, he is represented in the art holdings of BHP Billiton, Southern Collection, Scheryn Art Collection, Johannesburg Art Gallery and the Iziko South African National Gallery, amongst others 
Meet the Authors / Participants
Alexandra Dodd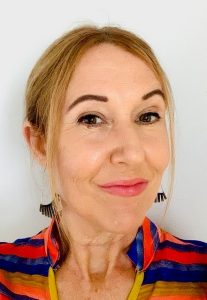 Alexandra Dodd is a writer and editor whose work takes shape at the interface between visual, literary, and archival cultures. She holds a Master of Arts from Concordia University, Montreal and a PhD in Literature from the University of Cape Town. She completed a Postdoctoral Fellowship in the National Research Foundation Chair for Social Change at the University of Fort Hare. Dodd has contributed texts to numerous art books and is the author of David Goldblatt: The Last Interview (Steidl, 2019). She has edited several novels as well as non-fiction books and specialises in genre-bending texts with an essayistic, social-documentary heft, exploring themes like embodiment, memoir, social spectres, the retrieval of lost histories, and interspecies subjectivity. She is the co-editor of Radical Solidarity: A Reader (Zeitz MOCAA, 2023). Her text 'Usha Seejarim: Transgressing Power' is due out soon in An Anthology of Non-Conformism: Rebel Women Words, Ways & Wonders (DIO Press, forthcoming). 
Thulile Gamedze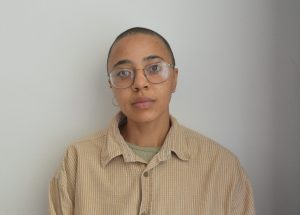 Thulile Gamedze is a Johannesburg-based cultural worker — producing writing, curricular, drawing and clothes — interested in the dialogic possibilities that emerge through the collapse of disciplinary structures. Across disciplines, Thuli's practice is interested in close reading; methods of digestion and response to the details of a text, image, idea, or history, that can be expressed in any number of forms. She has an M.Phil in Fine Art from the University of Cape Town and has written extensively for online and print-based art publications, including the catalogues for Documenta 14, the 10th Berlin Biennale, and iterations of Recontres' de Bamako. She has also published in academic journals including South Atlantic Quarterly, Radical Philosophy, The Thinker and March International. She taught sessionally in art history at the University of the Witwatersrand and continues to be a member of Africa South Art Initiative (ASAI), for whom she is the guest editor of their forthcoming issue of 3rd Text Africa: "WALLS."
Thulile was a member of iQhiya, a collective of Black women artists, who actively exhibited between 2015 and 2018, including at documenta14: Learning from Athens. She is part of an ongoing collaboration with her sibling Asher Simiso, with whom she works and writes as gamEdze and gamedZe. With artist Abri de Swardt, she works collaboratively as Overnight Services, queering museum order through the technologies of sleep.
Thembinkosi Goniwe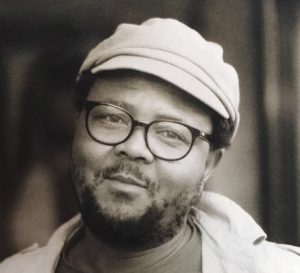 Thembinkosi Goniwe is an art historian, curator, and writer whose work explores contemporary African visual arts. His curatorial projects reflect postcolonial and decolonial criticism in the context of black radical thoughts and Global South discourse. Among his many exhibitions are A Resilient Visionary: Poetic Expressions of David Koloane, Iziko South African National Gallery, Cape Town (2019); Andrew Tshabangu: Footprints, Standard Bank Gallery, Johannesburg (2017); Intersections: Negotiating Subjects, Objects and Contexts, University of South Africa Gallery, Pretoria (2015); Where Do I End and You Begin, City Centre, Edinburgh (2014); Desires: Ideal Narratives in Contemporary South African Art, South African Pavilion, 54th Venice Biennale (2011); and Space: Currencies in Contemporary African Art, Museum Africa, Johannesburg (2010). He has edited a number of publications, including A Resilient Visionary: Poetic Expressions of David Koloane (Standard Bank, 2019); Andrew Tshabangu: Footprints (Standard Bank, 2017); Mary Sibande: The Purple Shall Govern (Gallery MoMo, 2014); and Space: Currencies in Contemporary African Art (Unisa Press, 2012).
Goniwe is currently Assistant Professor in Art History and Visual Culture, Rhodes University, Grahamstown, South Africa, and a visiting researcher at the Wits School of Arts, Johannesburg. He has previously lectured at several other universities, including the University of Cape Town, University of the Witwatersrand, University of Fort Hare and Vaal University of Technology. He holds an MFA from the University of Cape Town (1999) and an MA and PhD in the History of Art from Cornell University, Ithaca, US (2005 and 2015, respectively). 
Athi

Mongezeleli

Joja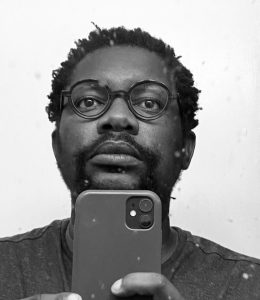 Athi Mongezeleli Joja is a South African art critic and currently, the 2022 Presidential PhD fellow in History of Art at the University of Pennsylvania, United States. He holds an MFA from the University of Witwatersrand in Johannesburg. His work researches the intersection of visual arts and revolutionary politics in 20th century and contemporary black South African cultural production. During the spring quarter of the 2021-2022 academic year, Joja was the Edith Kreeger Wolf Distinguished Visiting Professor in the History of Art Department at Northwestern University, United States. He has contributed exhibition commentary and scholarly articles in publications such as Artforum, Mail & Guardian, ZUM, ASAP/Journal and Theoria: A journal of Social and Political Theory. In 2020, he was also part of the UK based magazine, Apollo's list of Africa's 40 under 40 influential thinkers, curators, and practitioners in visual art.   
Kim M. Reynolds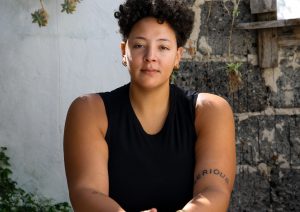 Kim M. Reynolds is a writer and text-based artist, critical media scholar, tech researcher, and cultural worker from Ohio in the US, based in Cape Town, South Africa. Reynolds is primarily concerned with the relationship between antagonism and imagination and their generative relationship, and her work comes in the form of writing and researching, creative writing, workshop facilitation, producing, and teaching.
Her work focuses on the narrative and critique of Black arts and politics (often the US and South Africa) and her interests include examining colonial scripts in popular media, the centrality of policing in the meaning-making process in westernized thought and imagining and practicing anti-extraction methodologies in knowledge creation and the arts. Her work has appeared in numerous outlets, exhibitions, as well as poetry and short fiction anthologies. Reynolds holds two master's degrees in Global Communications, Critical Media Analysis, and Black film from the London School of Economics and Political Science (LSE) and the University of Cape Town (UCT). Kim works as a writer, lecturer on critical media analysis, Black feminisms and queer theory, and histories of racialized violence, and is co-lead of the research and organizing collective Our Data Bodies, which examines how technology, surveillance, and policing reproduce anti-Blackness and all its by-products and what community solutions emerge from that examination.
Meet the Guest Performers
Maya Spector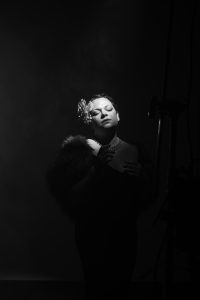 Maya Spector is a vocalist and songwriter from South Africa and the USA — with a voice that has been described as pure honey, with darkness and sweetness that tells her stories convincingly. Spector specializes in jazz, soul, musical theatre, and cultural educational facilitation. A global citizen by heart, Maya is well-versed in the distinctive cultural attributes of communities and audiences from around the world.  
Maya's earliest professional performance took place at the internationally renowned Kennedy Center in Washington D.C., alongside Jim Henson (of the Muppets and "Sesame Street"), and the renowned actress and singer, Phylicia Rashad.  
A graduate of the University of KwaZulu-Natal (2009), she majored in jazz performance and music education. She has left her mark in the world of musical theatre through powerful performances in multiple roles in classic and local musicals such as David Kramer's Langarm, Rent!, The Silence of the Music, The Man of La Mancha, Jimbo, and My Fair Lady.  
In her career as a musician, reaching over twenty years, she has written and recorded a full jazz/ soul fusion album, entitled, Honey & Heartache, released over twenty singles in collaborations (jazz, EDM, soul, rock), worked on numerous films, jingles, and projects as a session musician, and has played at countless gigs & concerts around the globe.  
During the 2020 lockdown, she furthered her studies at the prestigious Henley Business School Africa where she was awarded a full scholarship to study for a Post Graduate Diploma in Business Practice Management (PGDip). She has now gone on to establish a collaborative female empowerment cultural production house, The Papaya House.  
Maya continues her work as a solo and session musician in the global music scene, applying her talents across the board from classical to jazz performances as well as appearing in musical theatre productions. One thing for certain, she says, "I don't live for music, I live because of it!"  
Nobuhle Ashanti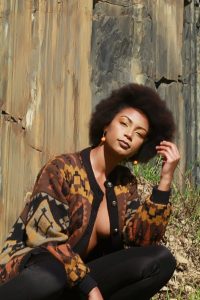 Nobuhle Ashanti (25) is a pianist, composer, and recording artist from Cape Town, South Africa. Nobuhle's musical education began at the Beau Soleil Music Centre, where she studied classical violin before moving to the piano. 
 
She has since been involved with various youth music initiatives including The Little Giants, the Sekunjalo Youth Program, and the Grahamstown International Youth Jazz Festival. With two accomplished musicians for parents, Nobuhle's childhood exposed her to a diverse range of South African music and the rich histories of legendary South African artists. Nobuhle's compositional style draws on elements of South African jazz, Rhythm and Blues, Jazz Fusion and Soul, and her songs often features intricate vocal and horn arrangements. 
 
Over the years, Nobuhle has performed at various live music venues and festivals around Cape Town as a session pianist for local artists and with her live project 'The Ashanti Tribe'. The fundamental concept of 'The Ashanti Tribe' is to gather different artists to celebrate their heritage and heal, together with the audience. 
 
Her debut album – 'Bait for Steps Forward' – features a wide variety of Cape Town's leading poets, instrumentalists and vocalists, and was released in March 2023.