Join us for this conversation between Unathi Mkonto, artist-in-residence at the Zeitz MOCAA Atelier and his former lecturer and Director of the School of Architecture at Nelson Mandela University, Boban Varghese. Together they will unpack the intersections of art, design and architecture and interdisciplinary practices. Beginning with the education of architecture, the two will discuss what it means to develop an architectural and artistic language within the landscape of South Africa.
This talk is part of programming for the Zeitz MOCAA Atelier. Launched as an experimental platform and residency that provides Cape Town-based artists with an opportunity to create new work, conduct research and develop ideas for future projects, the Atelier is a multi-gallery area situated on level 2 of the museum. In addition to providing an exploratory space for artists, the Atelier is also open to the public, allowing visitors to Zeitz MOCAA to have unique access and insight into the artist's modes of production and processes.
Zeitz MOCAA's curatorial and exhibition programming is generously supported by Gucci.
Date and time: 
Wednesday, 18 October 2023
6.00 pm – 8.00 pm SAST
Cost: Free with registration
Book your seat HERE 
Meet the Speakers:

Unathi Mkonto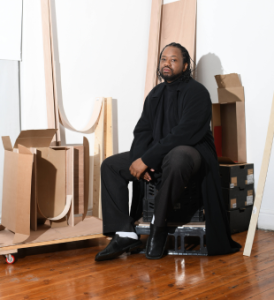 Unathi Mkonto (b. 1982 Peddie, South Africa) is a Cape Town based artist working with drawing, sculpture and installation. Mkonto is a self-taught artist and pursued a Bachelor in Architecture at Nelson Mandela University. He was also a design fellow at Architecture for Humanity in Johannesburg. Residencies that he has participated in include AVOID at the A4 Arts Foundation and Alma Martha, both in Cape Town, South Africa. Mkonto has also experimented with performance art, most notably in the 7th season of mentorships at the Center For The Less Good Idea. With a practice that sits at the juncture between art, design and architecture, Mkonto says, "I am always studying and looking at processes to humanize this historically apartheid-inspired built environment." Mkonto is the current artist-in-residence at the Zeitz MOCAA Atelier.
Image Credit: Photograph by Johno Mellish, courtesy of Zeitz MOCAA.
Boban Varghese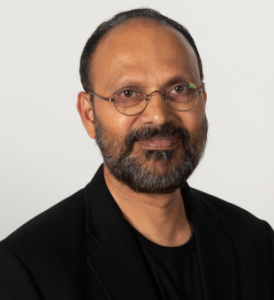 Boban Varghese is a qualified architect and industrial designer and a passionate educator who has been teaching for more than 30 years. He has travelled and worked extensively in India, Japan and South Africa and has acquired a deeper understanding of the role of design in developed and developing economies and its role in creating social impact beyond 'space and place making'. Currently, he is leading the School of Architecture at Nelson Mandela University, Gqeberga, as the Director of the School of Architecture.
Varghese leads the BAS (Hons) studio at the university, fostering critical thinking, creativity, and innovation among students. He is also involved in the design of developmental initiatives, where he applies his expertise and experience to address the challenges and opportunities of the local context. He is looking for ways to develop collaborative and innovative learning experiences in architecture and broader design education. He strives to become a forward-thinking leader who can positively impact the world through design education.
Featured Image Credit: Unathi Mkonto Atelier. Photograph by Dillon Marsh.