When We See Us Webinar Series — 'No Black Woman Can Write Too Much' (… after b. hooks)
"No black woman writer in this culture can write 'too much.'
Indeed, no woman writer can write 'too much'…
No woman has ever written enough."
—bell hooks
Titled 'No Black Woman Can Write Too Much' (… after b. hooks), the next session of the When We See Us Webinar Series will seek to affirm the experiences of Black women in Black art and culture. Looking to the important work and impact of womanism and African feminism, and the gains made thus far by these movements, the conversation seeks to cite women and woman-identifying artists from the continent and its vast diasporas whose work defiantly champions self-writing and self-representation. Importantly, the session aims to look beyond a singular generation as well as across geopolitical contexts to locate impactful examples of such artists. 
The representation of Black women in the global art world is an ever-present and widely permeating discourse. It continues to emerge as both a collective mission and as individual political projects for artists who have committed their life's work to question, confront, disrupt and counter not only their own marginalisation but that of those who are yet to come.
This seventh session, therefore, aims to reflect on the work of Black women artists, writers and thinkers who continue to push past trajectories of the historical oppressions that they have inherited. Most importantly, the session is an acknowledgement of the futures they have re-imagined. 
Conceived by Zeitz MOCAA in collaboration with the Institute for Humanities in Africa (HUMA) at the University of Cape Town (UCT), the When We See Us Webinar Series is part of a larger project that comprises a major exhibition of the same name as well as an extensive publication. When We See Us: A Century of Black Figuration in Painting will attempt to unveil the deeper historical contexts and networks of a complex and underrepresented genealogy that stems from African and Black modernities and spans several generations from the early 20th century to the present. To watch previous episodes, please click here.
Zeitz MOCAA's curatorial and exhibition programming is generously supported by Gucci.
Date and time:
Tuesday, 30 May 2023
6.30 pm SAST, 4.30 pm GMT
Cost: The series is free and takes place via Zoom. No registration is required.
Event link: https://us06web.zoom.us/j/88378717647 

Participating Speakers:
Yuderkys Espinosa Miñosa (Dominican Republic)
Yuderkys Espinosa Miñosa is an Afro-Caribbean theoretician, researcher, teacher and popular educator. One of the precursors and main exponents of anti-racist and decolonial feminism in Latin America and the Caribbean, she is a founding member of Grupo Latinoamericano de Estudio, Formación y Acción Feminista (Latin American Group for Feminist Studies, Training and Action or GLEFAS) and is a director of the GLEFAS Caribbean Institute of Decolonial Thought and Research. Her main contributions move towards a critique of the coloniality of feminist reason. Miñosa is a frequent guest speaker at universities, organisations and social movements in Latin America, the United States and Europe. In 2021, she obtained a scholarship from the Käte Hamburger Center for Apocalyptic and Postapocalytic Studies for a research stay at the University of Heidelberg, Germany. Her texts have been translated into English, German, Portuguese, French and Italian and she is currently the curator of the research and exhibition project Cimarron Antifuturism, an exhibition with 16 native and African diaspora artists in Abya Yala, the geographic region called the Darién Gap that is located between what is now north-west Colombia and southeast Panama.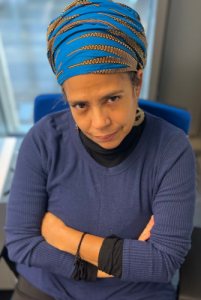 Pumla Dineo Gqola (South Africa)
Pumla Dineo Gqola is a feminist writer and professor of Literary and Cultural Studies. She holds the South African Research Chairs Initiative (SARChI) Chair in African Feminist Imagination at the Nelson Mandela University's Centre for Women and Gender Studies. She has held roles as Professor in the School of Literature, Languages and Media at the University of the Witwatersrand (Wits), Senior Lecturer in the Department of English at the University of the Free State (UFS) and Chief Research Specialist in Society, Culture and Identities at the Human Sciences Research Council (HSRC). In addition to numerous journal articles and book chapters, her seven books include the pioneering study What is slavery to me? Postcolonial/Slave Memory in Post-apartheid South Africa, published by Wits Press in 2010; the 2016 Alan Paton Award winner, Rape: A South African Nightmare; and the 2022 Humanities and Social Sciences (HSS) Best Non-Fiction Book, Female Fear Factory.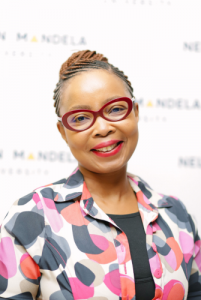 Kudzanai-Violet Hwami (Zimbabwe/United Kingdom)
Born in Gutu, Zimbabwe in 1993, Kudzanai-Violet Hwami currently lives and works in the United Kingdom. In 2016, the same year she graduated from Wimbledon College of Arts with a Bachelor of Fine Arts, she was awarded the Clyde & Co. Award and the Young Achiever of the Year Award at the Zimbabwean International Women's Awards as well as being shortlisted for Bloomberg New Contemporaries. In 2019, Hwami presented work at the 58th Venice Biennale as part of the Zimbabwe Pavilion, the youngest artist to participate in the Biennale. In 2022, she returned to the 59th International Art Exhibition of La Biennale di Venezia as part of The Milk of Dreams, curated by Cecilia Alemani. Hwami's first institutional solo exhibition, (15,952km) via Trans – Sahara Hwy N1, was held at Gasworks, London in 2019. More recently, she held a solo exhibition at Kunsthaus Pasquart, Switzerland, which was on view until 12 June 2022, and has been part of various group exhibitions, including the second iteration of the multi-chapter exhibition Indigo Waves & Other Stories: Re-Navigating the Afrasian Sea and Notions of Diaspora at Gropius Bau in Berlin, Germany (2023) and When We See Us: A Century of Black Figuration in Painting, currently on show at Zeitz MOCAA in Cape Town, South Africa. Her work is held in public collections across the world, including Fondation Blachère in Apt and the Kadist Foundation in Paris, both in France; the Government Art Collection and the Tate Gallery, both in London, UK; the High Museum of Art in Atlanta and the Jorge Perez Art Museum in Miami, both in the United States; and the Norval Foundation and Zeitz MOCAA, both in Cape Town, South Africa; to name a few.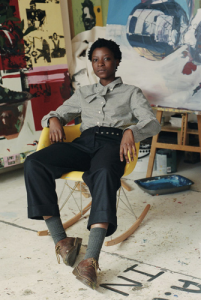 Suzana Sousa (Angola)
Suzana Sousa is an independent curator, researcher, writer, and a PhD student in the History Department and a fellow at the Centre for Humanities Research at the University of the Western Cape (UWC) in Cape Town, South Africa. In 2022, Sousa was a recipient of the Ivan Karp research award and previously co-curated the exhibition The Power of My Hands at the Museum of Modern Art in Paris, France, as part of the Saison Africa 2020. The exhibition is currently on show in Luanda, Angola at the National Museum for Natural History.