On view from 26 October 2023 until 13 October 2024
Exhibition vernissage 16 November 2023 at 6pm
Curated by Beata America and Tandazani Dhlakama 
Participating lens-based artists include Gladys Kalichini, Latedjou, Sekai Machache, Nyancho NwaNri, Pamina Sebastião, Buhlebezwe Siwani, Helena Uambembe. 
Seekers, Seers, Soothsayers features seven artists whose lens-based work explores accounts and experiences connected to the nonphysical world. This invisible world can be thought of as spiritual, supernatural, psychological, or abstract. It is an otherworldly realm. Using experimental film, immersive installation, performance, sound, and narration, the artists depict how ritual, devotion and acts of remembrance can offer connectedness, bring restoration, or provide alternative ways of seeing oneself within the cycle of life.  
The camera lens is an effective medium that the artists have used to expand, project, and reflect on how historical narratives are carried through the body and passed on from generation to generation. The exhibition includes stories of seekers, those who engage with the celestial to call on the divine, as they attempt to gather up parts of their fragmented histories that were ruptured by colonial exploits. It involves narratives of seers and soothsayers, those bestowed with uncommon gifts. Seers can anticipate the future while making meaning of the past. Soothsayers warn, translate, implore, and mediate between dimensions. They offer language for things felt but often unspoken.  
There are seven artists in the exhibition. The number seven has been spiritually significant in various belief systems in the past and present. Seven has signified completion and perfection, has symbolized divine introspection and perception, healing and fulfilment. There seven phases of the moon, and seven days, named after deities in the Greco-Roman week. The Abrahamic God rested on the seventh day. 
The exhibition title is drawn from a poem by Jamaican author, Kei Miller titled Speaking in Tongues (2007), and it forms a mantra for the constellation of works on display. The poem points to a human need to engage with worlds one cannot touch, whilst  emphasizing the limits of language to fully describe the lived experience.    
Speaking in Tongues
By Kei Miller, 2007 
This poem begins in 1987
My grandmother dragged us to meet the Lord
under a tent in St. Catherine. From her
I trace the heritage of standing spellbound
As women worship. Always I am on the outskirts.
I remember my grandmother unbecoming
The kind of woman who sets her table each Sunday,
Who walks up from the river, water balanced easily 
On her head. My grandmother become, instead, all earthquake- tilt and twirl and spin, 
Her orchid-purple skirt blossoming.
She became grunt and rumble- sounds
You can only make when your shoes have fallen off
And you're on the ground
Crying raba and yashundai, robosei and 
Babababababababba. Years later a friend tells me 
Tongues is nothing but gibberish- the deluded
Pulling words out of dust. I want to ask him 
What is language but a sound we christen?
I would invite him to a tent where women
Are tearing their stockings, are on the ground
Pulling up fresh words to offer as doves to Jehovah. 
I would ask if he see no meaning here
And if he never had the urge to grunt
An entirely new sound. The poem, always, 
Would like to do this, always wants to break 
From its lines and let a strange language rise up.
Each poem is waiting on its own Day of Pentecost
To thrash, to robosei and yashundai,
And the poem will note care that some walk past, 
Afraid of the words we try out on our tongues 
Hoping this finally is the language of God, 
That he might hear it and respond.  
Credit: 'Speaking in Tongues' from There is an Anger That Moves (Carcanet Press, 2007), Kei Miller, 2007.
Zeitz MOCAA's curatorial and educational programming is generously supported by Gucci and the Mellon Foundation.
Meet the Lens-based Artists
Gladys Kalichini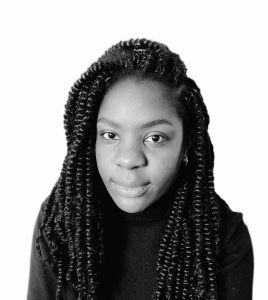 Gladys Kalichini (b. 1989, Chingola, Zambia) is a researcher and artist whose work draws from concepts of memory and representations of history and is centred on reconnoitring complexities in connection to visibilities and representations of women within larger, dominant and nationalist histories.
Kalichini holds a PhD in Art History from Rhodes University where she also received her MFA in 2017, culminating in the solo exhibition ChaMoneka: UnCasting Shadows. She is a member of the National Research Foundation's South African Research Chair Initiative (SARChI) programme in Geopolitics and the Arts of Africa and Global Souths Research Group. Kalichini has participated in the Àsìkò International Art Programme as part of the Centre for Contemporary Art Lagos (CCA Lagos) in Maputo, Mozambique in 2015, the Fountainhead Residency in Miami, USA in 2017 and the second iteration of the "Women On Aeroplanes" project in Lagos, Nigeria in 2018. In 2019/2020 she was artist-in-residence with KfW Stiftung, where she developed the exhibition … these gestures of memory. In 2021 she received a Seed Award from the Prince Claus Fund, and in 2022 she won the Henrike Grohs Art Award from the Goethe Foundation. She has recently participated in the exhibitions #Empowerment at the Kunstmuseum in Wolfsburg, Germany, Bamako Encounters – African Biennale of Photography (2022) in Bamako, Mali; Geographies of Imagination: My Language is a Bedouin Thief, Kochi Biennale, India (2022); and For the Phoenix To Find Its Form In Us. On Restitution, Reahabilitation and Reparation (2021) at Savvy Contemporary in Berlin, Germany.
Helena Uambembe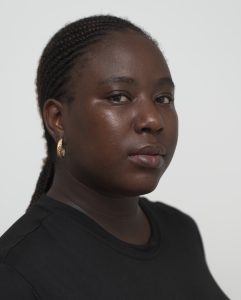 Helena Uambembe (b. 1991, Pomfret, South Africa) is an Angolan-South African artist whose work interrogates the two-way relationship between the political and the domestic. Drawing from personal and familial history, she maps the ideological and intimate space created by the historical and colonial links between Angolan, Southern African and global history. 
Uambembe holds a BTech in Fine and Applied Arts from the Tshwane University of Technology (2018). She has presented work in solo exhibitions such as BLOOMING IN STASIS: 25.8230° S, 23.5312° E, Museum für Moderne Kunst (MMK Zollamt), Frankfurt (2023); In memory we love, Jahmek Contemporary, Luanda (2023). Pim Pam Pum, NWU Gallery, Potchefstroom (2021); Commander Nel's Archive, David Krut Projects (2021); How to make Mud Cake at Everard Read Gallery, Cape Town (2021); and Soil Conversations, Galerie im Körnerpark, Berlin (2023). 
In 2019 she performed Those that we left behind, Hangar, Lisbon; Caminho do Mato, Caminho de Flores, Flores de Amor at the Centre for the Less Good Idea and FNB Joburg Art Fair, Johannesburg; and Therapy for the Black Man (In Honour of…) at Underline Projects, Johannesburg. Uambembe has participated in multiple group shows internationally including Territories Between Us, Iziko Museum, Cape Town; Unfinished Camp, Zeitz MOCAA, Cape Town; Feminism Ya Mang, Yethu, Yani, Goethe Institut, Johannesburg (2021) and Taxidermia do Futuro, Museu Nacional de História Natural, Luanda (2019). In 2022 she exhibited as part of the 7th edition of the Lubumbashi Biennial, Bamako Encounters and Art Basel. She has also participated in Deep Blue, Porto Photography Biennial 2023. In 2022 she was awarded the Baloise Art Prize. She is currently based in Berlin where she is a fellow of the Deutscher Akademischer Austauschdienst (DAAD).  
Buhlebezwe Siwani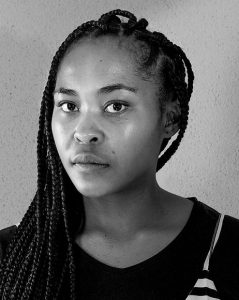 Buhlebezwe Siwani (b. 1987, Johannesburg, South Africa) is an artist and sangoma currently based in Amsterdam and Cape Town and raised between Gauteng, KwaZulu Natal and the Eastern Cape. In her practice, she considers the embodied and spiritual experiences of Black women in South Africa and predominantly works in performance, video, and installation.  
Siwani holds a BAFA (Hons) from the Wits School of Art in Johannesburg (2011). She earned her MFA from the Michaelis School of Fine Arts in 2015 where she co-founded iQhiya, a collective of Black women artists. In 2021 Siwani was awarded Standard Bank Young Artist Art, celebrated with the exhibition of iYeza at Standard Bank Gallery, Johannesburg in 2023.  
She has presented multiple solo exhibitions internationally, including Amanzi angena endlini, Madragoa, Lisbon (2022); Impilo Inegama, No Man's Art Gallery, Amsterdam (2022); Dedisa ubumnyama, and Cairns Art Gallery, Cairns (2021). She has participated in numerous biennials including the 14th Gwangju Biennial, South Korea (2023); Toronto Biennial, Arsenal Contemporary, Canada (2022); Casablanca Biennial, Morocco (2021)  Bamako Encounters, Mali (2019); and Anozero – Bienal de Arte Contemporânea de Coimbra, Portugal (2017). Recent group shows include  A Clearing in the Forest, TATE Modern, London (2022); Rethinking Nature, Museo Madre, Napoli (2021); The Power of My Hands, Paris Museum of Modern Art, Paris (2021); Goddesses of Healing, Mbassy, Hamburg (2021); Witness: Afro Perspectives from the Jorge M. Perez Collection, Miami (2020).  
Latedjou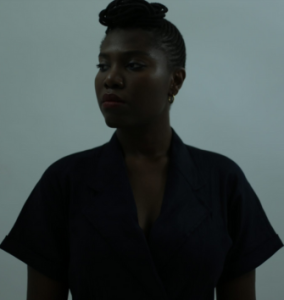 Latedjou (b. 1990) is an Angolan Beninese singer, multi-instrumentalist, critic, polyglot, and visual artist, currently based in Luanda. Her practice reflects on the personal, political, and generational tensions around language in postcolonial Africa. 
She holds an MA in Critical & Creative Analysis from Goldsmiths University. She has written and directed three short films, Ndozi Blues (2018), Dikenga (2021) and Domingo é Dia de Descanso (2021). She independently released her first EP, O Baile dos Sentidos, in 2017, followed by Língua Livre in 2019. The first single of the album, Zola-Na-Luz-Água was debuted as a short film directed by the artist. In 2019, Latedjou was artist-in-residence at Villa Waldberta, Munich. In 2018 she participated in the fifth edition of Fuckin' Globo, a biennial exhibition of Angolan artists in Luanda. Latedjou has performed in numerous venues in Berlin including Café Wendel and Silent Green for Savvy Contemporary's Invocations (2019). She is a contributing writer in Atlantica: Contemporary Art from Angola and its Diaspora, a major and unprecedent survey publication of Angolan art and artists published by Hangar Books.  
Sekai Machache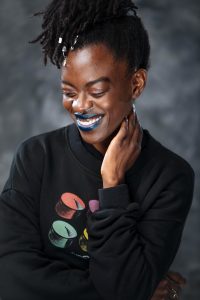 Sekai Machache (b. 1989, Harare, Zimbabwe) is an international artist and curator based in Glasgow, Scotland. Sekai's work is a deep interrogation of the notion of self, in which photography, performance, and film plays a crucial role in supporting an exploration of the historical and cultural imaginary to provide a space for healing against contexts of colonialism and loss. Exploring the relationship between spirituality, dreaming, and the artist's role in disseminating symbolic imagery; Sekai provides a space for healing against contexts of colonialism and loss.  
Machache has a BFA (Hons) and an MFA from the Duncan of Jordanstone College of Art & Design at the University of Dundee. In 2020 she received the Morton Award from the Royal Scottish Academy and held a residency at the Talbot Rice Gallery at the University of Edinburgh. She has presented two solo exhibitions, Divination, Sakhile&Me, Frankfurt (2022) and Projects 20, Stills Gallery, Edinburgh Arts Festival (2021), and participated in numerous group exhibitions. In 2016, Machache was a founding member of Yon Afro Collective, a cohort of women artists of colour in Scotland. In 2024, Sekai Machache will be among the artists representing Zimbabwe at the Venice Biennale.   
Nyancho NwaNri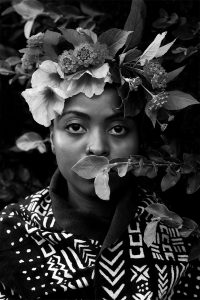 Nyancho NwaNri (b. 1988, Lagos, Nigeria) is a "Gamgerian" (Gambian-Nigerian) lens-based artist, documentarian and educator based in Lagos. Her art practice in moving images poetically explores the intersections of the Self, indigenous African spiritual traditions, African cultures, and personal and collective identity.  Her work as a documentarian considers contemporary environmental and social issues on the African continent.
NwaNri holds a BA (Hons) in Digital Animation and Production from the University of Greenwich and was awarded the Reuters Yannis Behrakis Photojournalism Grant in 2021. She has shown work in group shows including Bamako Encounters, Mali (2022), The Oceans and The Interpreters, Hong-Gah Museum, Taiwan (2020), This Is Lagos, Art X Lagos, Nigeria (2019), and One Home, One Farmer, Didi Museum, Nigeria (2017). She has participated in festivals internationally including Eyes On Main Street Festival, North Carolina; VideoEX Festival, Zurich, Chale Wote Street Art Festival, Accra; and Ndiva Women's Film Festival, Accra. Her documentary project Turning Trash Into Cash was published by the King Baudouin Foundation in 2019.
Pamina Sebastião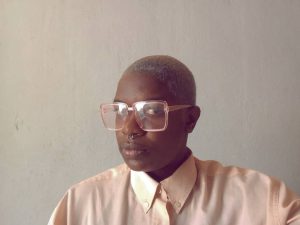 Pamina Sebastião (b. 1988, Luanda, Angola) is an artivist based in Luanda. Through photography, video and collage, they focus on creating a cultural artistic archive of death, decolonization and new imagination of a queer body in Angola.
Sebastião holds a Law degree from Catholic University, Luanda and a Master's degree in International Law with a focus on African Human Rights System from Lisbon University (2015). In 2022, they presented the solo exhibition Master of My Universe at Jahmek Contemporary Art, Luanda; participated in the 7th edition of the Lubumbashi Biennial; and received a Seed Award from the Prince Claus Fund. They have presented in numerous group exhibitions including Exposure There Is No Cure, MOVART, Luanda; Queer to the Bank, Galleria Fonti, Naples; and In Dependência, Ondjango Feminista, Luanda (2021); and Sem Sombras (Unshadowed), apexart, Maputo (2023).  Sebastião regularly delivers lectures and talks in public, academic, and activist spaces. They co-founded the Angolan Identity Archive, an LBTQI+ feminist collective, and also co-created Rompe artistic collective and centre in Angola. They have been shortlisted for the Henrike Grohs Art Award 2024 from the Goethe Foundation.