Join Zeitz Museum of Contemporary Art Africa (Zeitz MOCAA) for the closing ceremony of the landmark survey exhibition When We See Us: A Century of Black Figuration in Painting on Wednesday, 23 August 2023 at 6 pm. The event, an evening of Invocations featuring the visionary South African pianist, composer, improviser, and healer Dr Nduduzo Makhathini in collaboration with cultural practitioner, singer and songwriter Baba Mbuzo Khoza, is a precursor to the official closing of the exhibition on Sunday, 3 September. We would be delighted to have you join us at this prestigious event to celebrate the exhibition's impact and acknowledge all the contributors and supporters who have made the show a reality for the first time on African soil.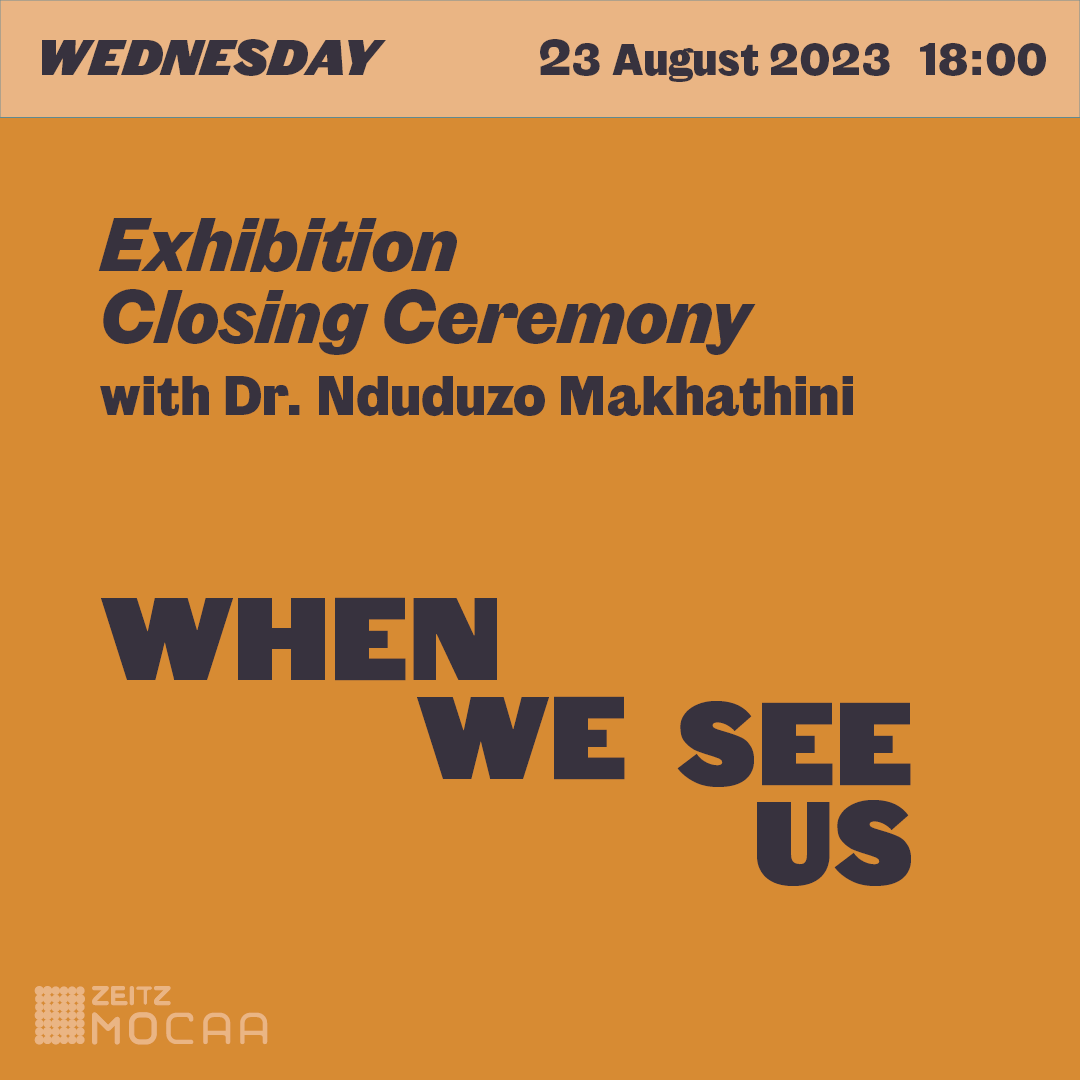 Event Details
Date: Wednesday, 23 August 2023
Time: 6:00 pm
Venue: Zeitz MOCAA Atrium Bowl
Programme
6:00 pm: Arrival & Check-in
6:25 pm: Welcome
6:30 pm: Viewing of When We See Us exhibition
7:30 pm: Viewing of CFAE Lalela exhibition A Gaze from Within inspired by When We See Us
7:45 pm: Speaker Remarks
8:15 pm: Invocations featuring Dr Nduduzo Makhathini
9:15 pm: Time to Mingle (cash bar available)
10:00 pm: Closing Remarks and Vote of Thanks

Zeitz MOCAA members may attend this event for free. If you would like to become a member, follow the link below.
(Memberships from R290 p/p). Purchase a Membership
The When We See Us Closing ceremony will showcase the intersections between exhibition-making and the sonic. In reflecting on how the When We See Us exhibition was accompanied by the sonic translation curated by South African composer and sound artist, Neo Muyanga, Dr Makhathini stated that, "It's necessary for the sound to be engaged and to expose the criticalness of the sound. Often in exhibition spaces the sound just becomes "entertainment" and I think how it's situated here (within the When We See Us exhibition) sends a very intentional approach which is really exciting." Dr Nduduzo Makhathini will have guests transported on a captivating acoustic journey of Invocations in Zeitz MOCAA's Atrium Bowl.
Furthermore, Liesl Hartman, Head of the Centre for Art Education (CFAE) of Zeitz MOCAA will illuminate how the museum's education programmes engage with exhibitions like When We See Us and collaborate with community organisations and schools that provide access to 21st century African art practice. One such community organisation is Lalela that provides educational arts for under-resourced communities to spark creative thinking and awaken an entrepreneurial spirit. Guests will have the opportunity to view the CFAE Lalela exhibition A Gaze from Within inspired by When We See Us, in the Scheryn Arena on level 0 of the museum. For more on the CFAE Lalela exhibition A Gaze from Within, click here.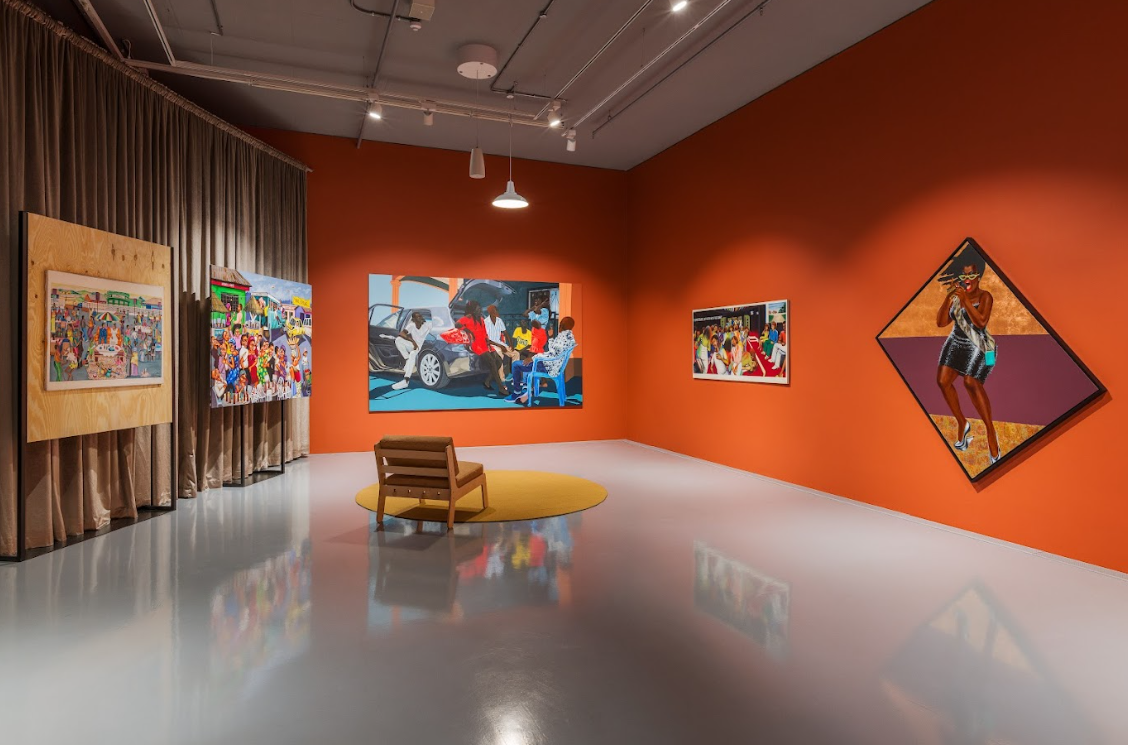 Unveiled in November 2022, the When We See Us exhibition, supported by Gucci, features nearly 200 works of art by 154 artists from 28 countries, with the artworks loaned from 73 institutional and private lenders located in 26 countries. When We See Us celebrates the resilience, essence and political charge of Black joy. The exhibition, designed by Wolff Architects, is organised around six themes — The Everyday, Joy and Revelry, Repose, Sensuality, Spirituality, and Triumph and Emancipation.
When We See Us explores Black self-representation and celebrates global Black subjectivities and Black consciousness from pan-African and pan-diasporic perspectives. It boldly brings together artworks from the last 100 years, by Black artists working globally, into dialogue with leading Black thinkers, writers and poets who are active today. In 2024 When We See Us will travel to Kunstmuseum Basel and a further European and North American tour is currently in discussion.
The exhibition furthermore celebrates how artists from Africa and its diaspora have imagined, positioned, memorialised and asserted African and African-descent experiences. It is against this backdrop that Zeitz MOCAA saw it fitting for prolific performing artist Dr Nduduzo Makhathini to mark the culmination of this ambitious, landmark exhibition with his uniquely curated sounds built upon the sonic universes which he creates within his own canon.
On his milestone tenth studio album, In the Spirit of Ntu, Makhathini condenses the thematic, sonic and conceptual notions explored over his catalogue into a layered yet accessible 10-track album. He utilises the ideas, practices, and experiences of pre-colonial Africa to fashion new modes of hearing, feeling, and being. "I'm drawing from things that reside as part of memory – until they get to the point of revealing something new," he says. "My improvisation is searching for that moment of revelation… or in the African context; a moment of divination." Makhathini's approach to his work is reminiscent of the carefully curated survey exhibition that was years in the making.
Zeitz MOCAA's curatorial and educational programming is generously supported by Gucci and the Mellon Foundation. Seismography of Struggle is furthermore supported by the French Institute of South Africa (IFAS).
The When We See Us closing ceremony is proudly sponsored by Private Clients by Old Mutual Wealth, with support from Ocular Lounge and DGB. Dr Nduduzo Makhathini will perform on a Fazioli grand piano generously supplied by Ian Burgess-Simpson Pianos.
Meet the Award-winning Jazz Artists
Dr. Nduduzo Makhathini
Dr. Nduduzo Makhathini (b. 24 September 1982) grew up in the lush and rugged hillscapes of umGungundlovu, Pietermaritzburg, in South Africa, a peri-urban landscape in which music and ritual practices were symbiotically linked. Coming from a musical family, his love for sonic arts began at an early age. Makhathini has performed with Zim Ngqawana, Simphiwe Dana, Feya Faku, and McCoy Mrubata. Nduduzo completed his Diploma in Jazz Piano at Durban University of Technology in 2005, and obtained a PHD in music from the University of Stellenbosch in 2023. Delve deeper into the story of the Blue Note artist, here.
Baba Mbuso Khoza
Baba Mbuso Khoza is a South African-born vocalist, songwriter, and musician. He is well-known for his rich and unique sound and genre. His style of music has gained international recognition. It is a delicate mix of deep traditional Zulu music with jazz elements. With his unique music genre and voice, Mbuso has performed in other countries. Mbuso has thrilled music lovers in countries like The Netherlands, Burkina Faso, and Senegal. He has also performed in Senegal and Portugal. The award-winning vocalist works as a columnist, radio presenter, and lecturer.